Will Meghan Markle And Prince Harry's Baby Be In Line For The Throne?
Meghan Markle and Prince Harry are just a few weeks away from welcoming their first child into the world. While the arrival of a new baby is always exciting, the birth of a royal baby is never without an excess of pomp and circumstance. Even though Baby Sussex won't be a direct heir to throne, royal-watchers everywhere are just as excited for Meghan and Harry's baby as they were for Prince William and Kate Middleton's three children.
So, where does Baby Sussex fall in line for the throne? Though it would be very exciting to have an American descendant sit on the throne (King George III is trembling!), Meghan and Harry's baby will be pretty far down the line of succession.
First in line to the throne is currently Queen Elizabeth's oldest son, Prince Charles. He will assume the throne when the Queen abdicates, retires, or passes away. Following Prince Charles is his oldest son, Prince William, who is currently second in line. Before William had children, Harry was third in line. After William welcomed his oldest child, Prince George, the line of succession continued through William's family. Prince George is now third in line, while his younger siblings Princess Charlotte and Prince Louis are fourth and fifth in line, respectively.
Following the birth of William's three children, Harry was bumped down to sixth in line to the throne. Should William have any more children, Harry will continue to be knocked down the chain. When Baby Sussex arrives in late April/early May, he or she will be seventh in line for the throne.
While Baby Sussex will be born as seventh in line for the throne, the line of succession is always in flux. Even if William and Kate don't have any more children after Louis, once George grows up and starts a family of his own, everybody below him will be knocked down with the arrival of his children.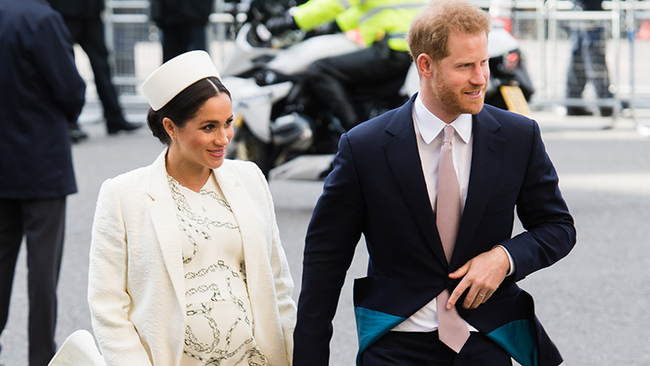 Here's a handy list of the first ten royals, including Baby Sussex, currently in line for the throne:
Prince Charles
Prince William
Prince George
Princess Charlotte
Prince Louis
Prince Harry
Harry and Meghan's children
Prince Andrew
Princess Beatrice
Princess Eugenie
Though Baby Sussex is seventh in line for the throne, it seems unlikely that they will be given the royal title of His/Her Royal Highness upon birth. The Queen will have to personally intervene and issue a Letters Patent to decree Baby Sussex will be known as a prince/princess. The more you know!
Photo: Getty